A smoothie is a great & fast way to get your greens in daily. You can change it up and add your choice of fruit. One of my most FAVE tools is my Blendtec blender. Click below for more information and FREE SHIPPING on your very own Blendtec!
GREEN FRUIT SMOOTHIE
INGREDIENTS
3 ounces vanilla nonfat Greek yogurt
1/2 frozen banana
1/2 cup frozen blueberries
1/2 cup frozen pineapple
1 cup kale
3/4 cup water or Oolong Tea
DIRECTIONS
Place all the ingredients in a blender and mix until smooth.
Enjoy immediately.
Makes one serving.
MADE IN THE USA ~ C.O. BIGELOW APOTHECARIES
They have been providing healing remedies, unique and unusual beauty products and hard to find apothecary items since 1838! I highly recommend their Rose Salve as a lip balm, nail strengthener and moisturizer. You can use it all over your body and it smells divine! They must be doing something right they've been around since 1838!

ANTI-AGING AKALINE WATER PROCESSING UNIT ~ SOOO TASTY!
Contact me for more information on this wonderful, healing product!
"The pH level (the acid-alkaline measurement) of our internal fluids affects every cell in our bodies. Extended acid imbalances of any kind are not well tolerated by the body. Indeed, the entire metabolic process depends on a balanced internal alkaline environment. -Dr. Robert O. Young, PhD, Author of The pH Miracle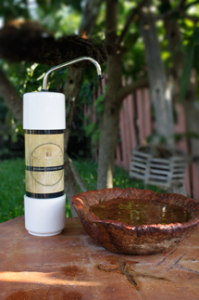 ---